Interesting news about the Mayors plans for East London were revealed yesterday. Of key interest are the facts that Londons population is set to increase by 2.4 million and that Mr Johnson would like to see more than 200,000 homes being built in the region over the next 20 years.
 City In The East masterplan.
City In The East masterplan
The Mayor of London Boris Johnson plans to transform
 East London
and create more than 200,000 homes and 250,000 jobs.
The City In The East masterplan shows how development would take place from London Bridge to the Isle of Dogs and Greenwich Peninsula.
It is designed to bring together major developments that are already taking place in the capital, as well as brownfield land with capacity for new housing, commercial space and other development.
Detailed modelling carried out by City Hall has revealed a minimum of 203,500 homes and 283,300 jobs could be created over the next 20 years.
The document also contains a series of maps
, which for the first time brings to life how the city is moving eastwards, covering much of the Thames Gateway and could benefit from improvements to transport infrastructure such as
Crossrail
and HS1.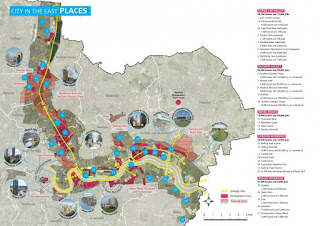 Mr Johnson said: "East London is already enjoying incredible growth and these plans reflect how we make the area an even better place to live and work over the next 20 years.
"This blueprint reflects identified areas of land in London to build on and it will allow us to coordinate not only housing and commercial developments, but significant transport infrastructure to ensure this part of the capital can continue to flourish.
"Hundreds of thousands of new jobs will help the capital to remain the best big city in the world."
Director of borough planning at
TfL
Alex Williams, said: "East London is expected to be one of the largest growth areas in the capital, with the population set to increase by 600,000 in the next 15 years.
Transport schemes such as the Overground extension to Barking Riverside and new river crossings will truly transform the area. 
London's transport network is vital to the economic and social wellbeing of this city and the country as a whole.
With greater connectivity from transport, people's horizons expand, their incomes rise and business prospers."
Just one more reason why 2016 looks set to be a great year to be a landlord.