Having worked in and around the Docklands and Canary Wharf over the last 20 years, its history and development have always fascinated me.
I will be blogging a series of articles looking at the areas past over the last few decades.
I decided to start my research in the glam-rock era, although the Docklands were anything but glamorous back then.
Walking around Canary Wharf today it is almost impossible to comprehend the massive changes that have taken place. As recently as the late 60's, 8000 people were still employed in ship-repairing and some 50,000 called the Docks their work place.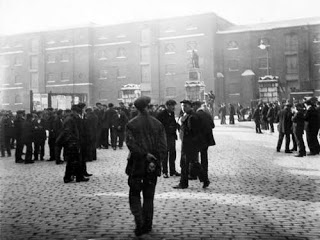 Waiting for work by West India Docks
The 70's saw a massive fall in these numbers following the commercial decline of London's upriver docks in the mid-60's. The main contributing factor towards these huge losses were decasualisation, which resulted in less reliance on older working practices and the greater use of pallets and containers. These one-size-fits-all methods of transportation greatly reduced the need for many of the specialised skills held by so many talented workers. In short, the docks were dying.
As a result warehouses were left empty and there were vast areas of derelict land. Some imaginative planning proposals were put forward, but given the unenviable reputation enjoyed by the down-at-heel Isle of Dogs, it is not surprising that very little development took place in the 70's. To many at the time, E1 and E14 were simply no-go areas.
Nonetheless, St Katharine's Dock began to take shape and most of the water areas of the London and Surrey Commercial docks filled in. The first real warehouse to be converted into housing was Oliver's Wharf.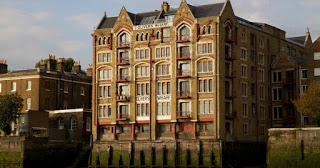 Oliver's Wharf, Wapping, E1
Located in Wapping High Street and dating from around 1869 this wonderfully ornate, Gothic style building was actually a former Victorian tea warehouse. The young architects who chose this project could truly be regarded as pioneers of the Docklands' regeneration. Taking their cue from similar inner-city projects in New York's SoHo area and, closer to home, from the artists who had started to colonise abandoned Docklands warehouses, one wonders what their reaction would be at the time had someone said "One day these apartments will be among the most sought after in London and command prices will in excess of £1million"?
One believer, however, was Harold Shand. Played by Bob Hoskins, he was the protagonist in the iconic film
The Long Good Friday
. Harold attempted to gain financial support from the American Mafia to develop the London Docklands as, amongst other ideas, a future Olympic host venue! A great example of art mimicking reality. Or should that be the other way around?!
The film makes compelling viewing for today's Docklands residents and workers. It is certainly fun seeing how many East London and Dock locations you can spot.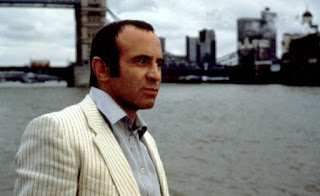 Harold Shand by the Thames.
In my next trip down memory lane, I will look at the 1980's.
Click here to email me
Docklands Estate Agency
Click here to follow me on Twitter