Crossrail 2 is a proposed public transport extension covering what is referred to as the wider South-East region.
Working in conjunction, the Mayor of London, Transport for London and Network Rail have identified that the rapidly expanding London population is putting a massive strain on existing transport, housing and infrastructure measures. The current London population is 8.6 million and this is projected to grow to 10 million by 2030.
Crossrail 2 will allow 270,000 more people to get to London during the weekday morning period alone. This will clearly have a massive, positive effect on the London economy. Moreover, it is also said that it will support 200,000 new jobs and drive the development of 200,000 new homes across the region.
Crossrail 2 would connect the existing National Rail networks in Surrey and Hertfordshire with trains running through new twin-bore tunnels beneath central London, between Wimbledon in the southwest and Tottenham Hale and New Southgate in the north. It would connect with existing Underground and National Rail stations, providing connections and direct services across the wider South East to destinations around the country. By providing an alternative rail route into London for many suburban rail services, Crossrail 2 would free up space on the existing rail network for longer-distance trains.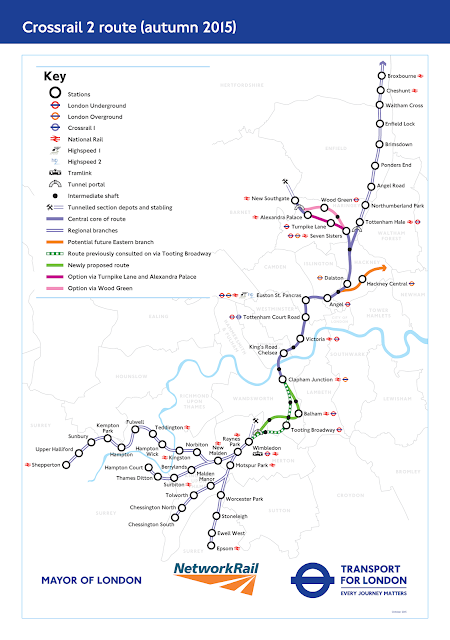 The proposed Crossrail 2 route.
This is clearly a massive project. Crossrail 2 will take around 5 years to develop and a further ten to install. The cost is currently estimated at between £27 and £32 billion and I imagine the final cost will certainly be towards the upper range, if not over it.
Canny investors know well the positive effect that new transportation links have on an areas property values. Many of my foreign investors, for example, simply look along the proposed route/line of a new transport link and use that as a guide where to invest next.
But what of the effect this will have on the Canary Wharf property market, I hear you ask? Afterall this is the Canary Wharf property blog! Crossrail 2 will result in 500,000 people being within 45 minutes of Canary Wharf. This will mean greater competition for Canary Wharf jobs. Given the financial-centric nature of Canary Wharf and the long hours that those jobs typically involve, I believe that property values for both sales and rentals will continue to rise as most Canary Wharf workers will still prefer to live within around 15 minutes journey time from their place of work. However, with more mature people and families living out of the area but previously unable to commute to Canary Wharf within a sensible time, will Crossrail 2 change the current Canary Wharf working demographic?
Could we even see a reverse-wave? Central London property values historically affect its surrounding areas. As property has become more expensive in London, so first time buyers are forced to look in other, more affordable areas. This, in turn, drives the values up in those areas. With Crossrail 2 having its own positive effect on the areas it will now connect, will those areas start to drive prices up again in Canary Wharf and other London regions?
Time will, of course, tell. This is certainly an interesting time for the Canary Wharf (and the whole of the UK) property market. I post regular updates on this very blog, so, if you are keen to keep upto date with the local market, please subscribe. You will then get all my latest thoughts and opinions on any Canary Wharf property news. Simply enter your email at the top right hand side of this page.