During my usual, daily trawl of the property portals, I came across this unusually large house for sale in East London.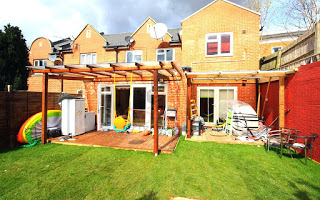 Rather confusingly, it is on the market with two different agents at two different prices!
or
We will ignore, for now, the different prices, the different number of bedrooms AND the fact that one agent describes it as end of terrace and one as detached and instead lets focus on the possible rental return.
HMO's or Houses in Multiple Occupation are popular investment choices right now. They tend to offer much higher rental returns than renting out to a single family and this property looks like it may be a great HMO investment.
Individual rooms tend to rent out between £120 and £200 per room, so lets average that out at £160 per room, per week. I understand the house actually has 6 bedrooms, so I will base my rental return calculations on that. It may be possible that one of the living room areas could be converted into a bedroom.
Six rooms at £160 per week would produce a monthly rental of £4160 and thus a gross rental yield of 5.5%. This is assuming a purchase of £895,000 which is midway between the two, different asking prices. Clearly, if a lower price could be agreed and if 7 bedrooms were available to rent out, a gross rental return of over 6% would be achievable.
I am a big fan of the area myself. Take a look at this video I made:
The next big area in which to invest?
You can also read a useful area guide here:
Royal Docks and E16 area guide.
HMO's are generally harder work than an individual letting. The people who rent rooms, generally need them as a short term solution and therefore the turnover of people moving in and out of the property is much higher. This means that maintenance works are needed more often for HMO's. In addition, there are much tighter controls on HMOs meaning you may have to install, amongst other things,  fire safety controls like extinguishers and exit signs.
I am of course happy to advise on ANY property you may be looking to buy. So, if you are looking for a studio flat in Canary Wharf or a 6 bedroom house in East London, please 
EMAIL ME
 for an impartial report. This is a completely free service and it makes no difference who the property is being marketed with.
Thanks for reading.
Spencer