I am often being asked for my advice on where to invest next and for advice on low value, low risk investments from first time investors.
With that in mind, I tend to keep an eye for cheapies and came across this one bedroom property: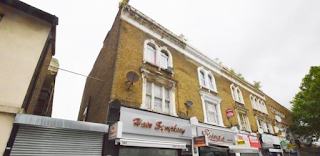 Whilst I have not visited this property, the price of just below £160k seems attractive and as the property appears to be currently vacant, perhaps some negotiation would be possible on that price.
The kitchen appears to be tiny, so my initial thought would be to make the kitchen and living room an open-plan space. Like I said, I have not visited the property so do not know if that is even possible, but if it is, I would do it!
Barking Road is a busy main road and the property is close to bus stops with good links to either Plaistow or Canning Town stations.
Canning Town has seen massive regeneration and it is likely that this will continue to spread further East.
And so, lets look at the numbers:
With a purchase price of £160k, allowing for legal and the other usual purchase costs, lets assume a total cost of £165,000. Rental demand on low-price, one bedroom properties in East London remains very strong, so our target rental price is £1000 per calendar month, but lets write in £900 to be cautious.
That would give this properties a new owner a gross rental yield of 6.6%. At a time when money in the bank pays you a gross interest of just above bugger-all, this appears to be quite an attractive investment opportunity.
The attraction grows when we consider the ROI (Return On Investment) figures. Lets assume the following:
Purchase price (excluding costs)            £160,000
75% mortgage, so 25% deposit needed    £40,000
Balance (£120k) funded at 4%, produces a monthly payment of £400 on an interest only basis.
Our rental at £900 per month produces a gross monthly profit of £500 per month.
Therefore our ROI comes in at a massive 15%. Not too shabby eh?!
As ever,  investors should proceed with caution. Although the lease is listed as being a very healthy 111 years, I have not looked at the legal paperwork and so have no idea who the freeholders is or what the service charge is. These are two essential questions that must be asked. In addition, I would suggest a full structural survey, so that we may properly ascertain the condition of the building and the roof; a common cost and one that can easily wipe out your first years profits.
Other things to consider are extra costs. I have worked out the gross figures, so you will need to think about potential void periods, maintenance costs (both planned and unexpected), letting/management fees and tax.
Overall, I consider this property (subject to some further due diligence) to be a low-risk investment, ideal for a first time investor. Whilst capital growth may not be exceptional, rental demand for these lower price properties has been strong and I see no reason why this will change.
Are you looking for a buy-to-let purchase? Do you own a property and need an impartial view on where the market is going?  I offer FREE, professional and ethical advice. For any questions you may have relating to our local property market, simply email me 
HERE
.
Thanks for reading.