In what many consider an already over-supplied market place, how should we receive the news that a 771ft behemoth is going to be built in Canary Wharf?
Spire London, at 235 metres tall, will be the tallest residential tower in the whole of Western Europe. It's 861 apartments are set to start at a whisker under £600,000, with penthouses running at a cool £3 million.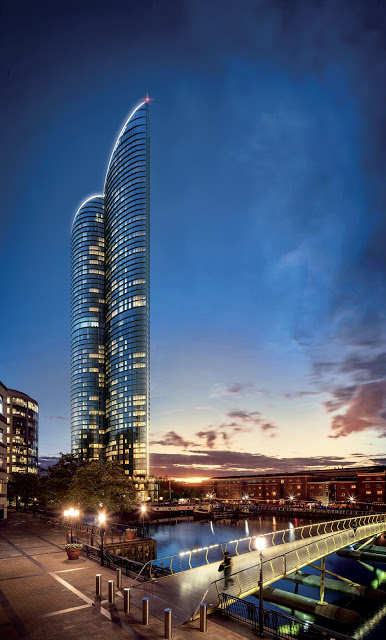 As you would expect for what will possibly be a new London landmark, the specification is very impressive.
The schemes architects, HOK said: 'Residents of the 861 flats will be able to paddle a few lengths in the infinity pool on the 35th floor, taking in the view of the City, or pound the treadmill and push weights in the air-conditioned gym. Or book a private movie night to watch King Kong in the darkness of London's highest cinema, with velvet mohair walls. If that's too much effort, you can simply order a cocktail at the sky bar.' 
Completion is set for 2020 but, with a multitude of other, prime residential 
developments completing between this year and 2018, how will the market react to yet another 861, high-end apartments being built in the E14 post code?
The effects are wide ranging. For landlords of older properties, for example, I have been advising two strategies. The first is to make sure their property is well maintained and in a contemporary style. With competition coming from new, lifestyle developments that have infinity pools and cocktail bars, it is imperative that landlords make sure their property is shown in the best light. The second strategy is to make sure they are aware of the local rental market and price their property accordingly. One of my long standing clients recently had a long standing tenant who had served his 2 months notice to leave. After some intervention on my part, it transpired this was due to being offered a reduced rental elsewhere. Some careful education and negotiation ensured that both landlord and tenant were left in a happy place; the tenant secured a good deal without moving and the landlord benefitted from retaining an excellent tenant.
The positive news is that, yet again, Canary Wharf is in the news for breaking records. Spire is set to raise the bar once again in the residential property market. Clearly confidence remains high from global investors that Canary Wharf can deliver a prime resi development.
There are of course ramifications for almost everyone in the Canary Wharf and Docklands property market when such news is released. If you would like my thoughts on how this affects YOUR personal circumstances, please email me HERE.
I also publish a monthly newsletter on the local property market. It's totally free and is packed full of useful articles and info. To receive the latest copy, simply click HERE