A recent conversation with one of my portfolio landlords prompted me to reflect about the last year.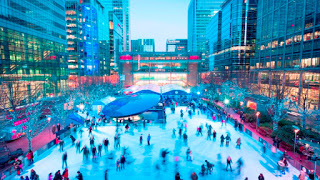 Ice skating at Canary Wharf, December 2015
2015 has been an interesting year for the Docklands and Canary Wharf property market. We have witnessed major rental and sale price increases. But why? What has driven these prices to reach the dizzying heights they have? The "why" behind any property news story has always interested me so I am going to try and explore that in this post.
I believe one of the main drivers of the market is the level of overseas investment we are seeing. A recent statistic from Savills, who are very well respected in the property sector for their data, shows that a massive 81% of central London new build property is sold to overseas investors. Think about that for a moment. It means that, in this case, less than 1 in 5 property buyers is actually from the UK! Overseas buyers are snapping up the vast percentage of new build property. This increase in demand has been a major factor in driving prices up, especially when you consider that supply is rather limited. Many UK buyers then look at their second or third choice areas because prices in their first choice area have become simply unaffordable to them. This ripple effect has gone on to increase prices, not only in London and the surrounding areas, but all through the UK.
Once again the "why" behind this fact proved interesting to me. So, I spoke to several of our overseas investors to establish why London was such an attractive proposition to them. I spoke with my clients from China, Russia and the UAE and here is what they told me;
There were a number of reasons given but the top three answers were ones that seemed to be shared by the majority of investors;
The UK is a stable democratic society.
Property titles are safe.
Interest rates are low and do not look like changing.
If you think about the countries where huge sums of investment are coming from, the comments above make perfect sense.
And so, to the million dollar question." What about 2016, what will the property market do?" Certainly a important question! I believe very little will change. In fact, I feel the first quarter will be a very interesting time ,as new-to-the-market investors may well feel under pressure to make a purchase before the massive increase in stamp duty takes effect in April. Watch this space!
Follow me on Twitter, click here
Email me any questions you may have here
Docklands and Canary Wharf property experts, click here