You know the old saying that books should not be judged by their cover right? Has a really good looking cover tricked you into making a purchase that you wished you had not?!
Buyers, on the other hand WILL judge homes 
by their cover. They will often stop outside your property before even deciding whether or not to view.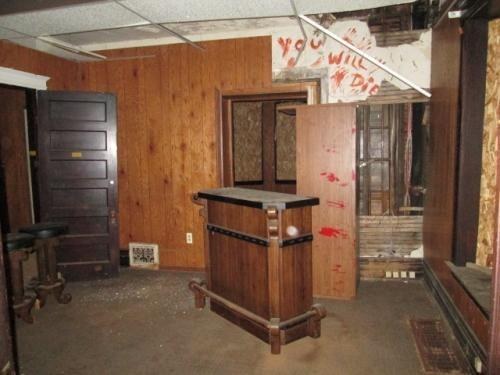 Would YOU view this property? Unlikely!
The secret to getting more buyers through the door is making your property look 
home-a-licious!
The front of your home needs to be picture-perfect: not only does it paint a good impression of the owner, it puts potential buyers in a positive frame of mind before they have even stepped in the door. A lack of home-a-licious'ness is a surprisingly common reason why properties don't get more viewings.
When you are getting ready to sell, the first place to start is the first impression, to make sure your browsers become buyers:
Windows

 – 

Mayor Rudolph Giuliani is famous for reducing crime in New York with his broken window philosophy, so lets start here. If your windows have 

finger prints

 and dust on the inside, buyers will see that from the outside too. Give them a good clean regularly. Check the window frames; if they are rotten, they aren't going to look very appealing. Consider replacing them before putting your house on the market. Ensure that they fit in with the look of your home.
Front Door – This article is all about first impressions and they don't get more first than the front door! Make sure yours stands out by giving it a fresh coat of paint. The colour should fit in with the look of your house, so don't make it too garish. Bright colours are in at the moment, but vivid pink, for example, might make your door a little overstated.
Neighbours – It's simple to think that your neighbour's property wouldn't matter to perspective buyers, but it really does. If they have rubbish on the lawn or anything else unattractive that really doesn't need to be there, ask them politely if you can remove it. To make your plan less obvious, offer a hand; if you're mowing your lawn, say you'll do theirs too. The last thing buyers want to see is dirty surrounding houses. If you live in an apartment, make sure the communal areas are free of rubbish. Do they need a lick of paint? If so, a call to the blocks managing agents may be in order.
Lighting 

– Many people might choose to drive by a potential property after dark, and it is essential that your property looks appealing. Having a nice lantern outside or a few front garden lights adds that special touch. Again, for apartment dwellers, make sure that all bulbs and lights are working. This is especially important as we are now well into the Winter months.
Clean and Neat – Obvious really, but when we live somewhere for a while, it is easy to get complacent! To give an overall good impression, ensure everything is as clean and spruce as possible. Repaint tired paintwork and railings, get rid of the weeds, trim the lawn, and make sure nothing unsightly is sitting on your drive, such as a skip. By following such straightforward tips, the front of your home will be screaming with kerb appeal within hours, waiting to turn browsers into viewers!
There is a great way of seeing your property how buyers do; take a picture of your home and see if you can consider a first impression from their point of view? 
If you would like my opinion or some free advice on selling your property, 
simply EMAIL ME HERE
I also produce a free, monthly market update on our local property market. You can get yours by simply visiting 
www.docklandsnewsletter.com
Thanks for reading.