It was with a great deal of interest that I read the below article:
Purplebricks are under performing
The report itself was written by Jefferies, a well respected investment consultancy.
There are two really interesting quotes that I think merit some further comment. The first one is:
"With no reward for actually selling a home, all eyes are focused on winning instructions, especially if Local Property Experts want to get close to the advertised On Target Earnings," 
Purplebricks employ, as part of their hybrid agency model, Local Property Experts. Often these are people who have worked for other estate agencies and wanted a job where they could have more flexible hours. This model always worried me a little bit; did it mean that Purplebricks would end up with an army of well motivated and engaged local experts or would they be staffed by bored housewives who simply wanted to play at being estate agents? Would they have part-timers who were squeezing in their job alongside their other, more important, daily duties? In any event it seems that some of my fears are true. I have a good understanding of how Purplebricks staff are remunerated and there is a great incentive for their local experts to get the property on.....and nothing else thereafter. So, if you were a property owner wishing to sell their property, who would you rather act for you. A company who rewards their staff when a property is listed or one who rewards their staff when it is sold?
Then we come to the next quote of interest:
"Jefferies says its analysis shows that it takes Purplebricks closer to five months to actually complete a sale on average, around ten times longer than it takes to find a buyer."

Wow, thats a long time!
There has been much public criticism of online agents and their poor track record of progressing sales. I feel the above quote really vindicates that criticism. Whilst it may be true that Purplebricks are investing in a better progression team and process, one of the main advantages that a traditional estate agent has is the experience and resources at their disposal to progress sales quickly and efficiently. These skills can not be taught overnight. Moreover, they are built up after years of dealing with, for example and very 
pertinent to the Canary Wharf market, contaminated land. Or what to do when the blocks management company are slow to release the management pack. Of course I could go on, there are 101 factors that can delay or even stop a sale going through. Needless to say, dealing with these  delicate matters can not really be learnt in a book or a training programme.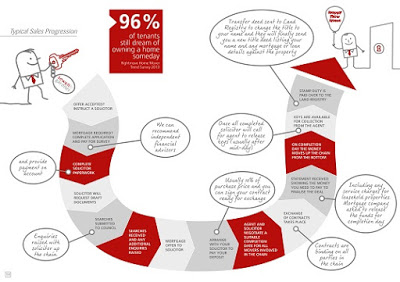 Its a complicated process!
Online agents, like Purplebricks, can work well in some areas. The big test of such companies will be when the market shifts from being a sellers one to a buyers one. Then, when the emphasis returns to customer service and being able to use old fashioned techniques like selling and negotiating; well, I believe that not only will the online agents not thrive, they will simply fail.
I feel, therefore, that although the UK estate agency industry is currently in a state of evolution, Canary Wharf property owners needs are better served by a traditional estate agency. An agency who are rewarded when a sale completes and one who has the skills needed to progress a sale through to completion.
Thanks for reading my thoughts, feel free to email me with any comments or questions you may have. spencer@lmlondon.com